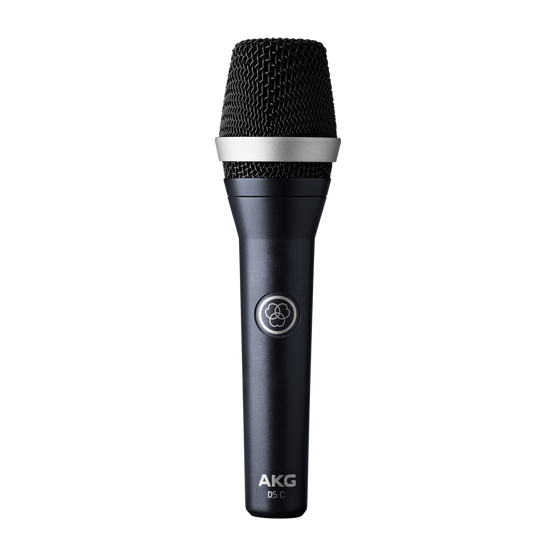 D5 C
Details
https://au.akg.com/dynamic-microphones/D5C.html?dwvar_D5C_color=Dark%20Blue-GLOBAL-Current
---
Professional dynamic cardioid vocal microphone
Patented laminated Varimotion diaphragm
For crisp sound that cuts through every mix
Cardioid polar pattern
For a wide variety of applications
Dual shock mount of microphone capsule
Eliminates any kind of handling noise
Integrated pop filter
For elimination of pops and wind noise
Spring-steel wire-mesh grille
Withstands every live performance
The D5 C is a dynamic vocal microphone that you can depend on, from small live gigs to large concert halls. The cardioid shaped polar pattern makes it your most versatile companion giving you freedom on stage while ensuring minimum feedback.
Since the D5 C can withstand massive pressure levels up to 160 dB and the internal dual shock mount eliminates handling noise, you will hit the stage with confidence.
The D5 CS has the same mechanical, electrical, and acoustic characteristics as the D5 C and features a noiseless on/off switch.
General Specifications
Audio frequency bandwidth
20 - 17000 Hz
Electrical impedance
600 Ohms
Recommended load impedance
2000 Ohms
Dimensions
Net Weight
mic only 320 g
The latest owner's manuals, quick start guides, and documents.