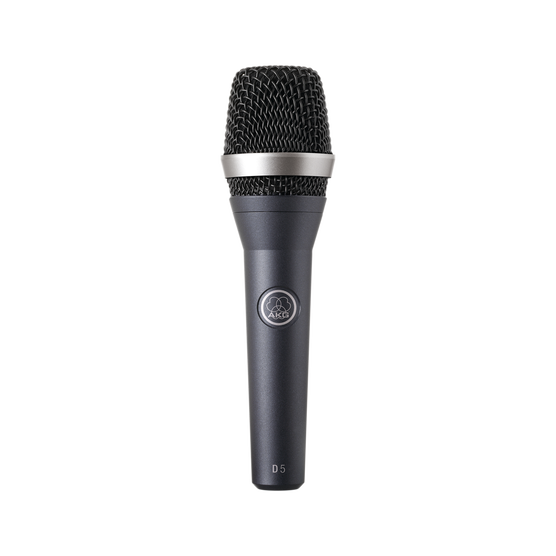 D5
Details
https://au.akg.com/APAC-D5-Philippines/D5-APAC-Philippines.html?dwvar_D5-APAC-Philippines_color=Dark%20Blue-GLOBAL-Current
---
Professional dynamic supercardioid vocal microphone
Patented laminated Varimotion™ diaphragm
For crisp sound that cuts through every mix
High feedback suppression with supercardioid polar pattern
For trouble-free use with on stage monitoring
Dual shock mount of microphone capsule
Eliminates any kind of handling noise
Integrated pop filter
For elimination of pops and wind noise
Spring-steel wire-mesh grille and rugged die-cast housing
Withstand every live performance
Mix Magazine:
"I liked the overall sound of the D5. It has a fairly neutral character with +4dB presence peaks around 5 kHz and 9 kHz. And if you want gain for miles, the D 5's feedback suppression and hot neodymium output provides all you need to keep any vocal up front."
The Audio Magazine:
"The AKG D5 provides a nice alternative to the typical dynamic handheld microphone providing a more balanced tonal spectrum than some rival designs. Excellent build quality, keen pricing, and pleasing ergonomics, well worth a look and listen."
The D5 professional dynamic vocal microphone for lead and backing vocals delivers a powerful sound even on the noisiest stage. Its frequency-independent supercardioid polar pattern ensures maximum gain before feedback. The D5 stands for a crisp sound that cuts through every mix. The dual shock mount eliminates any kind of mechanical noise for trouble-free live use. The audience will hear the pristine sound of your voice! The D5 S has the same mechanical, electrical, and acoustic characteristics as the D5 and features a noiseless on/off switch.